Secure access to your photos
Children and family photographer in Münster and Roxel

Welcome, thank you for accepting my invitation and visiting this registration page.
Hi I am Thorben, your photographer from Münster for families and children. In the coming days I will set up a small photo studio in the daycare center in consultation and with the friendly support of the management and the educators.
There I will offer a photo shoot with the children "group by group" with calmness and care. The result will be outstandingly beautiful photos, but also the "trappings" of the studio should inspire the kids and so it should be a special experience for all at the same time on this day.
The photos taken on this day will convince you as a parent by their quality. The photo shooting is therefore free of charge for you. The photo day will be financed solely through the sale of the photos to you. Acceptance of the photos is of course voluntary.
The value of the memory of the Kitazeit should not influence the "production costs" and so each registered child and the educators:inside receives a print of the group photo collage as a gift. Photos do not have to be purchased for this gift - this is important to me.
However, the registration is important. In the context of the data protection of the DSGVO I may photograph only announced children. Therefore I ask you to register your child here for the photo day, even if you don't want to buy any more photos. I am sure that one or the other photo will convince you. - You can take a chance on that, can't you? ;-)
Again the hint: Only registered children get the group photo collage as a gift. Since I may photograph only these children. Please communicate this to the other parents for safety. Thank you :-)

So thank you very much for your registration for the photo day. - Let's create beautiful photos for future memories of your child/children! I am very happy!

Your photographer in Münster and Roxel,

Thorben
P.S.: Below I have formulated some questions that may arise. I hope you will find good answers there. For further questions and also for appointments you can contact me via the contact form (above) or the website:
www.bajanowski-fotografie.de
What happens after the registration?
After your child's registration or before the photo days, you will receive emails from me with preliminary information, e.g. clothing tips for the photo day. With the registration you allow me to take photos of your child on the photo day. Children who are not registered will not be photographed.
Good to know: As soon as I have put the photos online, you will receive an email from me directly.

How do you know which child can be photographed?
An individual code is created for each registered child. With the list of registrations I will call the children individually together with the educators and assign the codes to the photos. Children who are not registered will not be photographed.

Is my child alone with the photographer?
No, I am not a supervisor and therefore a stranger to the children. The children remain in familiar rooms of the daycare center, but these are partially redecorated with a "studio setup". It is exciting, I know. The children will be photographed together with their group and a teacher or several other children of the group will be present and are invited to watch.
It is important that everyone feels comfortable to take good photos. No child likes to be photographed when "everything is dull". I will do my best to keep the kids happy, but nothing will be forced. On the last photo day I plan a little extra time for a catch up with a parent; you can do this too, but you will be informed beforehand if something didn't work out.

Wonderful, you were signed up and your child told you enthusiastically about the day! Everything went well?
Now you can view the beautiful photos in the online store and order prints directly. The photos are offered at the same time as a download purchase. - The prices of the individual images are of course higher than a print in drugstores, which is production costs are included at this point. - From experience, I recommend you to choose one of the package offers to get, for example, to the prints also the digital copies.

Photo days in Corona pandemic times?
I prepared myself and went through a certification. Contactless photography is the keyword. You can see a always Akutelle version of the safety concept here: https://www.fotograf.de/kontaktlose-kitafotografie/sicherheitskonzept/ I work therefore under observance of the official safety concept of my partners of fotograf.de.
But also photographically I have to keep a lot of distance for good photos and therefore I will stay in some distance to your child. After a registered group of children has been photographed, for example, the set-up and props will be disinfected and thus prepared for the next group.
May I share the digital photos?
Yes, the photos may also be shared. Only a commercial use of the photos is not allowed and must be agreed separately; but this is rarely the case! So have fun sharing the photos digitally with grandparents, uncles, aunts and friends!

May you as a photographer use the photos of my child, my children?
No, this may not happen without your special and written consent. With the registration for the photo day I do not receive this automatically.
Of course I would like to use special photos for e.g. my self-promotion, but for this I will always contact you personally beforehand, ask you for it and obtain your consent separately in writing.

Do you have other questions?
I am sure I have not answered all your questions. Therefore you can reach me personally at 0251/93257719 or via my family photos and wedding photographers website at www.bajanowski-fotografie.de.
I look forward to hearing from you and thank you very much for your interest and appreciation of photography.
P.S.P.S.:
How do I order the photos now?
Ordering your children's photos online is easy now!
How does it work? Just enter your personal access code from your access card or your proof card. Then, search in the album for the photos that you like best and choose how you want to order them. Simple!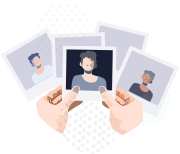 More photos
Choose from all photos taken during the photo shoot instead of only one! The choice is yours!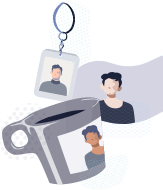 More products
Prints, mounts, downloads, gifts, and a lot more...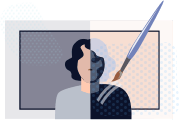 Photo effects
Personalise your photos! Black and white, sepia and more